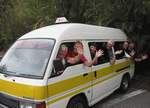 Greetings to all our friends and clients! October 2008 marks our second year since we launched our website, we thank you for continuing to log on and for placing bookings via the website.
The past year has had its highs and lows for us. On the up side we've had a fair amount of cruisers revisiting and we've also had a lot of new visitors. In addition we had a few visits by the US Military including the USS Carr, USGC Legare and the USS Farragut. 'Members Only' Maxi Taxi Service was pleased to supply the crew and officers with transport, and the cruising community here enjoyed tours on these ships.
'Members Only' Maxi Taxi Service continues to offer cruisers here our wide range of services including our very reliable 24-hr Airport Shuttle, shopping, cultural experiences, sight-seeing and general taxi services. During the past year we had the pleasure of taking a lot of folks out to view the incredible sight of the giant leatherback turtles that visit our shores every year to lay their eggs, for the newcomers this was one of the highlights of their visit here! The Carnival Season was also a success this year as we had more visitors than last year and everything went smoothly with cruisers getting to get up close and personal with the panmen on our visits to the panyards, and also visiting the Mas Camps with quite a number of cruisers deciding to participate in J'Ouvert with Trevor Wallace's band, as he always makes everyone feel welcome and part of the Trini experience! Folks also attended many of the competitions leading up to the 2 day street parade.
Asa Wright Nature Centre and the Caroni Swamp continues to be popular attractions, and our hiking trips have become quite a favourite challenge for visitors and is an opportunity to see and experience the wild and untouched part of our island. We also did a lot more trips out to Nariva Swamp where there is a wonderful troupe of red howler monkeys, capuchins, and lots of macaws, as well as the endangered manatees, and you can even see snakes on the trails..no worries because they're always asleep as they are nocturnal. We also did a lot of trips out to the Pitch Lake which is one of only three in the world and we have the largest as well as the only one that is being currently mined.
From sight-seeing to dining and to cultural experiences, Trinidad has a lot to offer, folks were able to enjoy the 'We Beat' Festival as well our famous annual 'Taste T&T' which is a gourmet extravaganza with all our multi-cultural foods and music to be sampled and enjoyed. Cruisers were also able to not only enjoy soca and calypso, but to experience the classical side of Trinidad & Tobago by experiencing the music of the Trinidad & Tobago Philharmonic Orchestra in concert this August.
On the down side we lost two of our drivers and dear friends this year, Marlon Francis on the 18th January was struck and killed by a vehicle while crossing the street. Bridgemohand Mahabir died on the 18th May of a massive heart attack.
Boaters Enterprise closed their office in Chaguaramas but not their business. Jack Dausend is still operating and will be putting out his very informative Boaters Directory later this year. He unfortunately has stopped the printing of his magazine 'The Boca' but the Yachting Services Association of Trinidad & Tobago has started up a new magazine called The Bay as a way of keeping cruisers in touch with what's happening. Jack Dausend remains the first contact for SSCA members and you can visit his website at www.boatersenterprise.com 'Members Only' Maxi Taxi Service is the second contact for SSCA and you can visit our office at Tropical Marine to get your burgess etc.
We have a lot of exciting things coming up, during the month of October we will be taking folks to The Festival of Lights - Divali an event not to be missed. We will also be taking part in YSATT's Marine Trade Show which is being held on the 18th October at Sweet Water Marine Chaguaramas, so look out for us as we will be offering some specials which will only be available if you book at the trade show. In December there will be lots of concerts, parang music, and steelpan events to attend. And of course in February there will be Carnival!
'Members Only' Maxi Taxi Service thanks you all for your support and we look forward to continuing to be of service to you. Thanks also to our team of drivers, Derek, Stanley, Mike, Marlon C., Ronald, Abraham, Sterling, Marvin and Musket for their hard work and continued dedication. Thanks also to Zorina of Irena Travel for her assistance as well.
We invite you to continue logging on regularly to see what's new and what's happening!
---
Marlon Francis was struck and killed by a vehicle on the 18th January 2008, he was 29 years old. Marlon worked for 'Members Only' Maxi Taxi Service for 8 years, he was a very willing and dedicated worker as well as a generous and helpful person. We mourn the tragic loss of this young man. We miss you, you were not just a worker to us, you were our friend.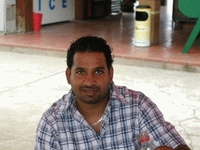 Bridgemohan Mahabir died of a massive heart attack on the 18th May 2008, he was 59 years old. Bridge, as we called him worked with us for about 9 years, he was a good worker, dedicated, jovial and always willing to help. He was good with vehicles and could fix anything. He would work through the night just to help you out. We miss him and we mourn his loss. We miss you, you were a good friend to us long before you worked with us.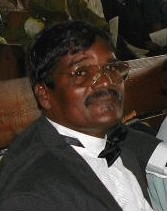 ---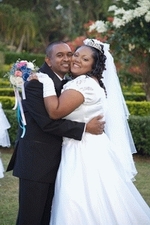 Congratulations to Ronald Sean Gunpat (our driver) and his new bride Simone Joesph, they were married on March 1st 2008.
Congratulations also to Abraham Khanai (our driver) and Sharda they were married on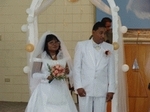 30th August 2008.
Much happiness and God's Blessings on these two couples!
---
'Members Only' Maxi Taxi Service is asking assistance for help in looking for a yacht lost at sea, we received the following information on Sept 1st 2008 and we're trying to assist the family, if anyone has seen this boat or person, please contact us.
"Hello Jesse and Sharon. I learned about your services on the internet while surfing and looking for help regarding a missing person. Please excuse my request, but I would like to say that it is made from great distress. I am writing to you in the hope you can help me find a person who is apparently lost since June 3rd, somewhere off Bermuda. Name of vessel is Dyscotia, 35 feet sail boat, white hull. There is only one person on board the yacht, Icelandic citizen, male, Jakob Fenger, 56 years old, ca 170 cm high, short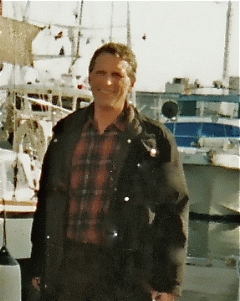 lightbrown to greyish hair, regular facial features, handsome.
He was last heard from June 3rd by iridium phone just off Bermuda, he said he was heading towards Newfoundland, but nothing has been heard or seen of the vessel since. The agonized family in Iceland has a vague hope that eventually Jakob changed his mind and turned the vessel to sail to Trinidad, since he has friends there. I hope you can help me since you meet so many people through your job. This is our last hope for Jakob to be still alive........ nothing has been heard from him since June 3rd and our hopes are dwindling.........
Sincerely,
Harpa Bj÷rnsdˇttir "
They have checked with the provider of the iridium phone who confirmed that he was off the coast of Bermuda, but now there is no signal from the phone anymore. We thank you for any assistance you can give to the family.
---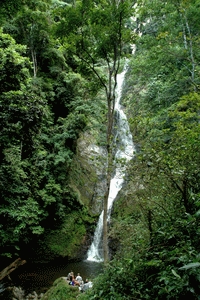 Rincon Falls - a perfect eight
When we met Jesse at 6:00 it seemed quite early; the orange winged parrots were still squawking loudly as they departed their nighttime roost to go where ever it is they go for the day. The nighttime air was just starting to warm up. As we drove out of Chaguaramas and into the hills of Petit Valley it was clear that many had started their day hours ago. Six AM is not too early to start a day of hiking.