1st Anniversary of the Launch of our Website!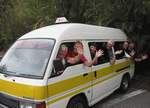 Greetings to all our friends and clients! October 2007 will be one year since we launched our new website! We have had good feed back on it and we thank you for continuing to log on. The website is being updated regularly and as you know you can also do your bookings quite easily via our website.
The past year has been active here in Trinidad with lots of new cruisers coming in to Trinidad for the first time. The Chaguaramas community was also visited by the US Naval Destroyer Carney in April '07 and the submarine USS Albquerque in July '07. 'Members Only' Maxi Taxi Service was privileged to supply the transport for the crew and officers and the community here in Chaguaramas enjoyed getting a tour of these vessels.
This past year we also had for the very first time in Chaguaramas …dragon boat racing!! These competitions created quite a stir and were very enjoyable. Carnival (Feb) was also a spectacular event with many cruisers enjoying the variety of Shows and also participating as well.
It was also a wonderful year to view the giant leatherback turtles, lots of them laying in abundance on our shores, and 'Members Only' Maxi Taxi Service made sure that cruisers got to go out and take advantage of this season by visiting the beaches where they lay and getting fabulous photos and a nice dinner too!
In May Boaters Enterprise Ltd launched their 20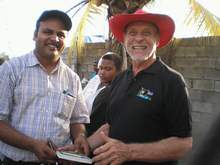 07/2008 Boaters Directory right here at the Tropical Marine where our office is located. This year's edition was very special as it was dedicated to our very own Jesse James who….to quote
"…since the inception of Chaguaramas as a yachting centre, [Jesse James] has given a new meaning to the word service." End quote.
Jesse was also presented with the South Bound II Award trophy that was
awarded to him in 2005 from the Seven Seas Cruising Association. Commodore Denis Webster of s/v Tiger Lily II did the presentation. There was entertainment from Power Boats Scorpion Pan Reflections and Trini-Stars Tassa Group as well as refreshments from Angostura, Joe's Pizza and the 'doubles lady'! An enjoyable evening for the 100 or so cruisers in attendance.
'Members Only' Maxi Taxi Service also introduced a series of hiking trips that were quite successful ….and continues to be so with the cruising community. With many cruisers getting to see a part of Trinidad that is totally wild and untouched, not to mention having to jump into the rapids and shoot down the river! As many of you know Trinidad is unsurpassed for cultural activities here in the Caribbean and this year there were many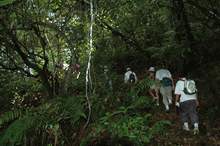 concerts and shows for the visiting cruisers to attend. From the March madness of Pan Jazz to Pan in the 21st Century in April to Strings Song & Steel featuring the famous British Virtuoso violinist Oliver Lewis, renowned Trinidadian and internationally recognized soprano Natalia Dopwell and to our famous pannist and composer Liam Teague. There were also classical concerts to attend featuring the Trinidad Philharmonic Orchestra, as well as the famous choral groups to listen to such as the Marrionettes Choral and the Lydians.
Lots of folks also took advantage of our free transport to designated top-notch restaurants like Apsarah, Tamnek Thai, Solimar and A La Bastille. There was also the 'Taste TnT' Show this year with lots of local entertainment. Lots of social activities taking place here in Trini! Of course our weekly shopping trips continue and our very reliable 24hr Airport Shuttle is still running!
We have a lot more coming up as well… In October there will be the YSATT Marine Trade Show, Dragon Racing, Pan Jazz, In Nov / Dec Divali - Festival of Lights, Christmas Concerts and Parang! Carnival 2008 is very early 4th & 5th Feb, but there will be lots to do before that so make sure to log on early for the schedule and you will also be able to place your booking via our website….how cool is technology??!! No long lines to wait in!
'Members Only' Maxi Taxi Service would like to thank you all for your support and we look forward to continuing to be of service to you all. We also wish to thank our wonderful team of drivers Ronald, Stanley, Derek, Dean and Marlon for their hard work and dedication. Also Zorina & Tara of Irena Travel for their continued support and assistance.
We look forward to seeing you all in Trini where there are lots of things to do, from hiking in the rain forest, to bird watching at the famous Asa Wright Nature Centre, to sight-seeing around the island as well as entertainment, fine dining and shopping and our Airport Shuttle.
Log on to our website regularly to keep updated on it all!
---
Boaters' Corner
This section is dedicated to contributions from our dear boating clients.
From: Ralph & Connie McNeil s/v 'Arjumand'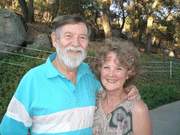 Marionettes Choral
Jesse did it again! We've learned in our nonconsecutive mere 4 months of being in Trinidad that when Jesse organizes an outing to a musical event, it's first rate entertainment. The Marionettes Chorale conducted by Gretta Taylor at the very smart Queen's Hall the first weekend of July was no exception.
As Jesse dropped us off our eyes went directly to the obvious ladies of the night leaning against the Hall's pillars. Their tight black short dresses and bright red feather boas did rivet the eyes! The ladies eyed the arriving patrons with a knowing nod. Then we realized...ah yes, Cabaret & Chicago are on the program!
The night was billed as a Mosaic, the fifth of it's kind for the Marionettes who do this type concert every three years or so. This year was a taste of Opera and Broadway. Selections from 5 operas and 7 Broadway shows had a bit of something for everyone. There must have been 50-60 singers performing in most of the pieces, quickly changing brightly colored costumes between each number. Over 30 soloists belted out their numbers with gusto! Some produced near goose bumps while others' lyrics brought wide grins and outright laughter. Even someone who doesn't particularly appreciate opera could be wooed with the lively pace of this mosaic and the lithe dancers who could sing wonderfully as well. .
The young lass who sang the selection from Annie was precious--an orphaned child looking to be someone's special baby. The Youth Chorale's presentation of parts of High School Musical was full of energy and motion. While those in the foreground were singing, those in the background were often frozen in time for long periods. How they held their awkward positions for the duration of a song was amazing. It definitely added to the magic of what they were about. No wonder its the winner of 5 awards with numerous requests to stage it in its entirety sometime soon.
There was no question about getting full value. The concert lasted about 2 1/2 hours (including a 20 minute intermission) and seemed to be thoroughly enjoyed by Jesse's bus load of people.
The opera selections came from Die Fledermaus, Magic Flute, Romeo et Juliette, Madama Butterfly & La Traviata with parts of the Broadway shows My Fair Lady, Annie, Chicago, Rent, Cabaret, Elton John's Aida and High School Musical.
If you wish to make a contribution to the Boater's Corner, please click here.
---
In remembrance of our cruising friends
Carl Eric Lundquest s/v 'Trivia' passed on 11th March 2007 here in Trinidad after suffering a massive heart attack. Carl Eric had a degree in Metallurgy and was the director of Sandvik Steel in Sweden. He lived on his boat here in Trinidad for many years and loved attending concerts and playing bridge at the cruisers weekly session. He also wrote a book on playing this particular game.

David Davis of s/v 'Mood Indigo' passed away in Guyana on May 23rd 2007. David a lover of jazz played the trumpet and he and his wife Joyce who sang the blues organized many jazz concerts for the cruisers here in Trinidad over the many years while their boat was moored her in Trinidad. David was an icon in television broadcasting and also pioneered the 'Public Broadcasting' in the US which produced many high quality cultural and education programs, one such program being 'Sesame Street'.
Friedrich (Fred) Futter of s/v 'Global Ombakah' passed on 20th June here in Trinidad after a

brief battle with cancer. Fred was an engineering consultant and worked in Arizona though he was born in Namibia and then later immigrated to Canada. Fred fell in love with sailing and it became his passion in his retirement years.
---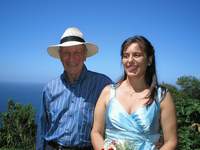 Congratulations to Gerard Roland Noel & Claudia Ozorio Pereira of s/v 'Raja Laut', they got married along the North Coast Road on 4th March 2007. Rev. Kenneth Sammy officiated and 'Members Only' Maxi Taxi had the privilege of organizing the ceremony and providing the transport for the happy couple!