JESSE JAMES – Maintaining the Standard!
Jesse James of 'Members Only' Maxi Taxi Service has always believed in maintaining a high standard in his service to the yachting community here in Trinidad. In light of this belief, even though he already has a certificate in Tour Guiding, he decided to do a more intensive training course in this field, and took the course that was being offered by the T&T Tourist Transport Service Association during the period of July 2008- October 2008. This class was the first to have undergone such intensive training which included teaching all about Trinidad, Customer Service, Defensive Driving, First Aid, and some special sessions in dealing with Differently Abled persons as well as training in being a Walking Tour Guide and Driving and Guiding. Jesse was assessed in a written and practical exam and awarded a certificate as a General Tour Guide by The Trinidad & Tobago Hospitality and Tourism Institute. Jesse was also given a special award for being the 'Most Helpful Person' during this course. Jesse James and his team of 'Members Only' Maxi Taxi Service are committed to maintaining a reliable service of high standard to the Yachting Community here in Chaguaramas, Trinidad.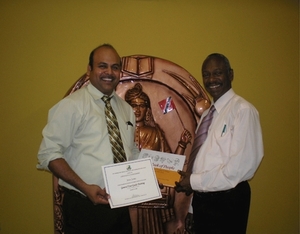 Jesse James (left), Member's Only Maxi Taxi Service
Sydney Valaire (right), President of T&T Tourist Transport Service Association
---
WINNERS OF PROMOTION BY 'MEMBERS ONLY' MAXI TAXI SERVICE CARNIVAL 2009
During the Carnival Season of 2009, 'Members Only' had a Carnival Promotion and everyone that booked with 'Members Only' had a chance to win some prizes! Here are the winners for the season Carnival 2009.
s/v Equity Kicker – Male Trevor Wallace T-Shirt
s/v Magic Days – Female Trevor Wallace T-Shirt
s/v Carina – Hike Seekers T-Shirt
s/v Tortuga – A free ride to the airport
s/v Heaven won't wait – Free J'ouvert costume by Trevor Wallace
Congrats to all the winners!