<< Back to the Full List of Chronicles
Holiday Charity Trip
by Members Only Maxi Taxi Service
Thanks to all who gave to the YSATT Holiday Charity

We used the donations, so generously made by the yachties, to buy food and staples for the benefit of many needy Trinidadians in greater Port-of-Spain. Jesse James and two of his crew, accompanied by Penny of MV Seahorse and Debby of SV Psyche gathered at the Grand Bazaar shopping center early on December 23. Food staples and other necessities such as items for basic hygiene were purchased. In the parking lot we filled the gift bags with our purchases. Each bag contained items such as flour, salt, channa, milk, juice, cereal, canned meat, oil, soap, corn, peanut butter, and rice.
Once the gift bags were filled we loaded them into Jesse's van and headed out. As we entered each neighborhood, we picked up a resident well-known to Jesse. This contact then guided us to a safe place to park and walked us around to the truly needy, while rebuffing the pan-handlers. First stop was the Beetham Gardens area, south of Port of Spain.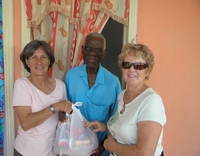 It is a very poor housing district and the people have very little. We also brought snacks and apples to give to the children.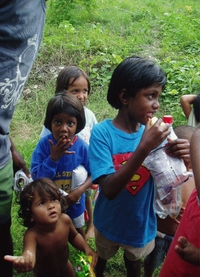 For the most part they were quiet, simply showed huge smiles and spoke their thanks. We even got to cradle a new baby who, despite not having been named yet, was called Johnny. It felt so humbling to simply give to these people.

Before the day was over we had taken gift bags to the less fortunate in many areas such as Chaguanas, and along the edges of the Caroni swamp. What a privilege it was to be a part of this holiday giving! We hope that next year more publicity will encourage more cruisers to give so our gifts can go beyond the basics!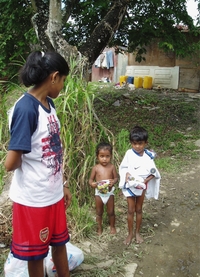 Short term climate conditions in Trinidad courtesy Yahoo!