<< Back to the Full List of Chronicles
Doin' Carnival - and More - with Jesse James
By Ann Vanderhoof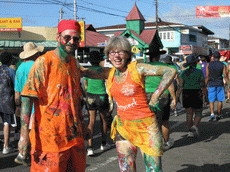 It's 10:00 a.m. and I'm coated head to toe in mud - thick mud, the colour of coffee with cream. And paint - thick paint, applied indiscriminately, Jackson Pollock-style. The sun has already done an admirable job of baking this multi-coloured mess onto my skin and clothes; I've got a nice solid crust on my body and a can of Carib in my hand. It's 10:00 a.m., I've been on the move since 3:00 a.m., and now Jesse James is stuffing me into a hefty-sized trash bag.
I can't remember the last time I've had so much fun….
…At least not since last week, when Jesse organized (and accompanied us on) a day-long trip to Trinidad's Guanapo Gorges, where we hiked through dazzling rain forest, then floated through high-walled chasms, shooting down mini-waterfalls and hooting and hollering as we jumped into the river's deep pools. Or the week before that, when Jesse took us "liming" to several mas camps and panyards in Port of Spain, with a restorative stop for barbecued chicken in between. Or when he….
But I get ahead of myself. My husband Steve and I are back in Trinidad, for our first Carnival, and Jesse James, owner and operator of Members Only Maxi Taxi Service, is making sure we experience the best of it. When we first told him of our plan to return for this annual bacchanal, he had advised us to come well before the actual event, explaining that the lead-up is as much a part of the experience - and the fun - as the two days of Carnival itself.
Sage advice, we quickly discover. Being here early means we can attend the preliminary rounds of the Carnival competitions - such as Panorama, the competition that chooses the country's best steelbands; and the competition (a costume extravaganza) for the King and Queen of Carnival - and, like the locals, can begin to root (loudly, in true Trini fashion) for our favourites. It means we can get to know the popular Carnival socas and calypsos and, like the locals, become hooked on them - in our case, to the point that they become the soundtrack to our dreams at night. And it means we can attend early events, such as the mesmerizing spectacle of Kiddies Carnival, where children - from babes in arms to 15 year olds - compete in elaborate costumes that portray everything from a flame-coloured, large-beaked bird (the feathered "skirt" of this costume is easily 12 feet wide) to a translucent, man-of-war-like jellyfish whose glistening tentacles entirely engulf the child within. Halloween back home will never be the same.
Not content just to watch from the sidelines, we decide to take Jesse up on the opportunity to "play mas" - specifically, the traditional "dirty mas" of J'ouvert. French patois meaning "daybreak," J'ouvert kicks off the two main days of Carnival. Revellers take to the streets beginning at 4:00 a.m., plastered with paint, mud, and (occasionally) oil or even chocolate. Our mas band is about 400 strong (other bands are much larger), and includes maybe four-dozen yachties). It has a music truck (read: flatbed transport with a wall of speakers and a DJ), a bar truck (one of Steve's photos shows me drinking a Carib considerably before dawn; a new first for me), and a "mud trailer," so that we can grab additional handfuls of mud and paint to "freshen" each other up as we chip "down deh road" to the infectious soca beat. Strangers chip by - from other bands, from within our band - and smear a fresh coating on us; when they see me with my own just-dipped handful of paint or mud, they want to "shake hands," to get some fresh ammunition for themselves. As the sky lightens and dawn breaks, we dance through the Woodbrook section of Port of Spain, getting progressively more paint-splattered and mud-smeared and - we like to think - progressively more proficient at our chipping (the distinctive step done to the soca beat) and "jumping up." Over the top, flat-out fun.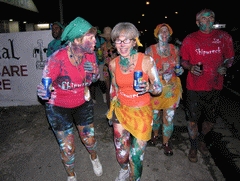 But for me, nothing can beat the heart-pulsing, movement-inducing, jaw-dropping revelation of hearing a full, hundred-plus-players steelpan orchestra for the first time. Of being surrounded - no, swallowed - by the sound, as we stand mere inches from the pans when Jesse takes us to the yards where the bands practice for Panorama. And then, a week or so later, strolling "the drag," the stretch of track lined with stalls selling food and drink on one side and pan bands on the other. This is where the bands warm up before moving one by one onto the Savannah stage for the semi-final judging. The sultry night air is filled with the indescribably sweet sound of the pans, and with the smells of fish frying, chicken barbecuing, and corn soup bubbling away in huge cauldrons. The shoulder-to-shoulder crowd embraces us, welcomes us, obvious strangers, into its midst. (Frequently, all throughout our stay, strangers come up to us and ask, "Are you enjoying your Carnival?") Magic.
And the following week, Jesse is the magician, acquiring last-minute tickets and arranging a last-minute driver when we can't resist making the long trip "South" for the Panorama finals, which are being held in San Fernando, the island's second largest city. Here, impossibly, the bands ratchet up their high-octane playing even farther, for one more euphoric, frenzied performance. There truly is "fire in deh pans." Our beloved Trinidad All-Stars lose by one (one!!) point to Phase II Pan Groove. Steve is crushed - as if he's been a lifelong follower.
Beyond acquiring tickets and ferrying us safely to and fro, Jesse is intent on helping us fall in love with his island: its natural beauty, its flora and fauna, its culture, its festivals, and its food. "Who's for doubles?" he calls from the driver's seat of his maxi-taxi as we start off on or return from a day's outing. Those of us who have been in Trinidad for a while call back an enthusiastic "yes," having become addicted to this quintessentially Trini breakfast food, mid-morning snack, and late-night pick-me-up: two rounds of fried bread called bara with warm, lightly curried channa (chickpeas), chopped cucumber, and kuchela (a spicy green mango relish) in between. "You want peppa?" Jesse asks, relaying our orders to the woman assembling the doubles. We've been forewarned: Even "slight peppa" - just a dash of the killer local hot sauce - can get a newbie's eyeballs sweating. Jesse will also make sure you don't leave Trinidad without trying a bake-and-shark - the irresistible Trini take on a fried fish sandwich - at Maracas Beach. (After you're handed a golden deep-fried bake stuffed to overflowing with golden deep-fried shark, you dress it to your taste with garlic sauce, cilantro-like chadon bene sauce, pepper sauce, pineapple, and half-a-dozen other toppings.) Jesse works in stops, too, for overstuffed rotis or homemade ice cream, somehow always managing to juggle the wishes and whims of a varied bunch of yachties without dropping the ball (or any of his multiple, essential-for-organizing cell phones). Events, airport pickups, movie nights, dinner outings, shopping excursions: Jesse indulges us - but even he has his limits.
Which is why, at the end of J'ouvert morning, he has stuffed me, arms and all, inside that hefty-sized trash bag, with just my head popping through a hole at the top. He and his drivers are rightly proud (and protective) of their pristine maxi-taxis, and there's no way he's letting me and my coat of J'ouvert paint and mud inside unprotected. Jesse drives us everywhere all the time….but sometimes we drive him crazy.

Short term climate conditions in Trinidad courtesy Yahoo!