<< Back to the Full List of Chronicles
Chicken foot souse - an experience with Trini street food
By Sarah Willoughby "Quintessence"
On our trip down to the beach to see the leatherback turtles, we were talking with our driver - the infamous Jesse James - about Trinidad food. It is a real mix of Caribbean, Indian and African. One really popular snack is chicken foot souse. I was asking about it and Jesse said would we like to try some, so we said yes. How bad could it be? I imagined it being something like Oxtail soup which is traditional in England, but maybe that was just wishful thinking. I have eaten a whole sheeps brain in Morocco so chicken feet should be no problem.
When they were handed to us, I was truly shocked to see 10 wobbly, jelly like boiled chicken feet, toes and all staring at me. My first thought apart from shock was that at least the claws had been clipped off. This was going to be a challenge.
We did not want to be rude, so we started to nibble. 'Eat' would not begin to describe it as there is no meat on chicken feet, just the rubbery, scaly skin and some gristle and bones under that. The taste was ok - for the brief moment I was able to block out the visual of what I was putting in my mouth. Something akin to chicken stock or consommé with some chilli thrown in. But then I opened my eyes again, and the feet wobbling around in front of me combined with the rubbery texture made my stomach turn. I could face no more. When we have worked up the courage, we MIGHT try the cow heel soup and gizzards that were next on the menu. But then again, maybe not. Jesse suggested I include the recipe here, but as the chances of cruisers parting with money to buy chicken feet and then boiling them up in their galley for hours are slim to none, it has been omitted. Chicken feet aside, we can highly recommend the other island food we have had so far. Doubles are delicious!
To get a great introduction to Trini food, you should watch these short videos by a visiting chef tasting cow heel soup, iguana, roti, doubles and of course chicken foot souse from the street vendors. Just go to www.youtube.com and search for 'bizarre food trinidad'. You will not be disappointed!
Sarah Willoughby "Quintessence"
Jesse proving that Trinis really do eat it and enjoy chicken foot souse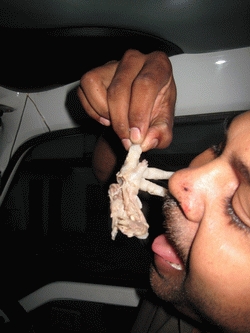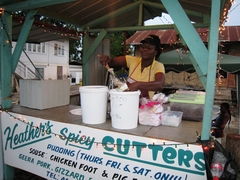 Photos Copyright Sarah Willoughby